Description
Made of high-quality materials, this dog house bed is designed to give your cats/dogs a place of their own.
Purchase this house bed and allow your furry friends to appreciate the finer things in life.
Cosy Dog House – this dog house bed is made using an ultra-soft sponge and micro plush fabric. These luxury houses are intended to provide extreme comfort so that your pets feel fresh when they wake up. It also helps them behave better.
Design – the design is ideal for pets who love to burrow. It comes with a door and a great overage. It allows your pet to enjoy some privacy and alone time. This design also boosts their well-being as the house is warm, which keeps them at ease.
Detachable – The top of this dog house bed can be detached and foldable, making it highly portable. It also has an anti-slip bottom, ensuring that your pet can play freely.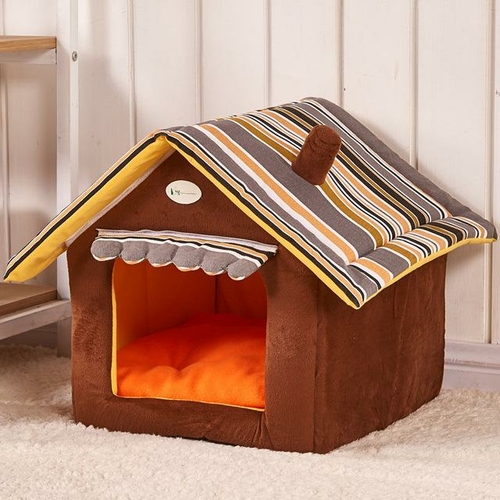 Specifications:
Feature: Breathable
Type: cats
Material: FIBER
Is Smart Device: No
Kinds: Magic tape pet bed, Pet blanket
Suitable: Cat, dog, rabbit
Color: Brown/Green/Yellow
Size: 13.8" x 15.8", door size 8.7'' x 7.9''
Can carry: 20 lbs
This dog house bed is accessible online and can be shipped within 24 hours. Order now before it runs out.
Advantages of buying from us?
Best service – didn't like the product that you received or the item received is defected? Contact our team and return the product within 30 days.
FREE SHIPPING – We will handle the shipping costs on your order for you
Payment & Security
Your payment information is processed securely. We do not store credit card details nor have access to your credit card information.